**New** Westmeria Introduction/Taster Course
Either as a voluntary, part time or full time career- begin your journey here!
We're running a weekend introduction Taster Course over 1 weekend to introduce you to counselling.
If you have no knowledge of counselling this will give you some insight into the nature of counselling work and help you to decide whether you want to proceed with further counselling skills training.
And if you decide it's for you, Westmeria's accredited Level 2, 3 and 4 courses will take you all the way to being a qualified counsellor.
And if not, our taster course alone will help improve communication skills, as well as enhance emotional and social skills.
Why not find out if helping others with a role as a counsellor is for you?
Our taster course costs just £160! All tuition fees go directly towards helping individuals seeking counselling.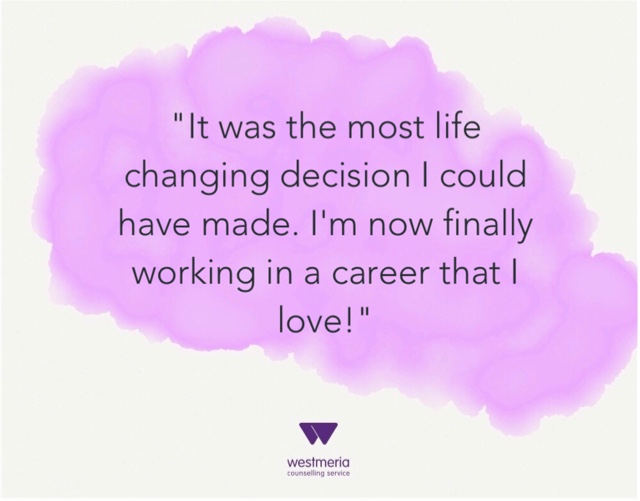 Candidate entry requirements:
This qualification is not suitable for those who are currently in a state of severe emotional difficulty and/or severe psychological confusion. If you are unsure please do not hesitate to ask.
Age 18+
This course involves experiential elements that may involve some personal disclosure and associated personal developmental activities. 
Attendance requirements:
It is a requirement that students will attend the full course to be awarded a certificate.
Dates and Times:
Saturday 15th June 9am-4pm and Sunday 16th June 9am-11.30am
Fees:
£160.  Please note that once a student has signed up for the course no refunds will be made.
Application for this course:
Please contact Jenny Powell and training@westmeriacounselling.co.uk  for an application form.  Or Westmeria Counselling, Bromley Park Medical Centre, 6 Daly Drive, Bromley Park, Bickley, Kent BR1 2FF.
Why study with us?
We're not like other counselling colleges, we're proud to be unique and your experience with us will be unique too. Here's why:
We keep our group sizes small- giving you the best opportunity to learn. You'd never find groups of 18+ on our courses.
We teach the things many colleges don't- CBT, creative therapy, knowledge of common mental health problems. We teach the same course info but with our unique additions, giving you essential skills that are often left out.
Lots of one-to-one tutor time. Your tutor will offer one-to-one tutorials plus they are available to speak with any time.
Our college is based inside our agency- that means your training is in the context of an agency, giving you more experience and knowledge.
We're passionate about what we teach, that's why we support you to become passionate counsellors instead of functional counsellors (we think there's a big difference!)
All of the profit our college makes goes straight back into our charity. That means your training actually directly helps clients to access counselling- it's a 2 way street and we're delighted to know we're helping both trainee counsellors and clients on their journey's.